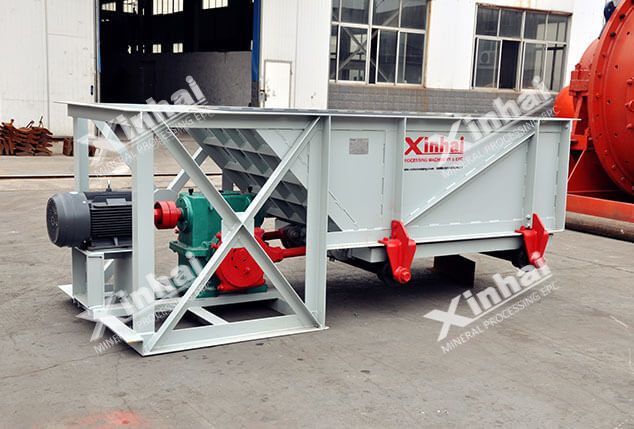 Chute Feeder
【Product Introduction】:A periodic and reciprocating feeding machine for large bulk materials
【Applicable Materials】:A periodic and reciprocating feeding machine for large bulk materials
【Production Capacity】:10~90t/h
【Product Application】: According to user requirements, the motor can be changed to the speed adjustment motor to adjust the feeding volume.
WeChat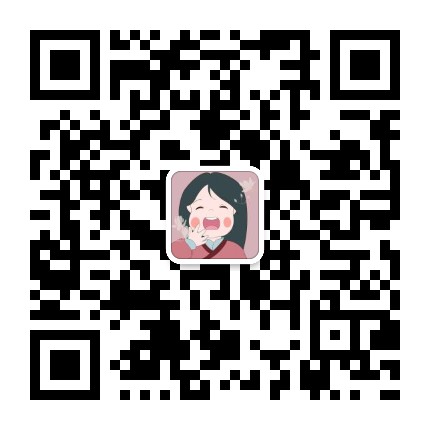 ADVANTAGES
01 Simple structure, even feeding, good continues performance;
02 Change and control flow and feeding volume at any time;
03 Stable transmission, high efficiency;
04 Compact structure, reasonable design;
05 Excellent quality, wide application.
PRODUCT STRUCTURE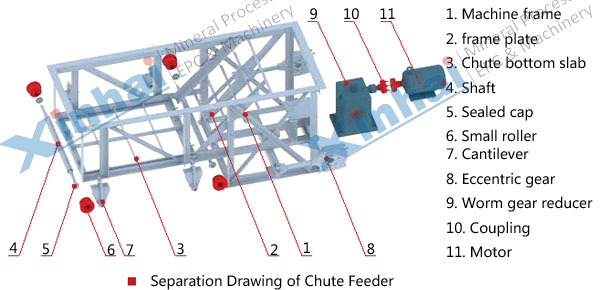 The machine is usually installed underneath the discharging opening of the ore bin. Minerals fall on the bushing. The bushing is located at the chute bottom, configured on the idler wheel, and via an eccentric device connected with a reducer which is linked to an electric motor by a coupler. When it works, the electric motor drives a reducer via a coupler; eccentric disk and drain cap which is situated between the chute frame bottom and roller begins to do reciprocal and linear motion to uniformly feed minerals.
Product Parameter
Model
Outlet Dimension (W X H) (mm)
Max. Feed Size (mm)
Feed Capacity (t/h)
Motor Model
Motor Power
(kW)
Weight
(kg)
CG300X300
300X300
50
10~20
Y90L- 4
1. 5
265
CG400X400
400 X400
100
10~30
YCT160-4A
2. 2
640
CG600X500
600 X500
200
10~50
Y112M- 4
4
1045
CG700X500
700 X500
200
10~60
1100
CG1240X980
1240X980
350
36~90
Y160M- 6
7. 5
1710
Related Products
Online message
You can fill in your demand information in the form below, and our technical and sales staff will get in touch with you as soon as possible. In order to ensure that your information can be processed in a timely manner, please be sure to fill in your contact number accurately!