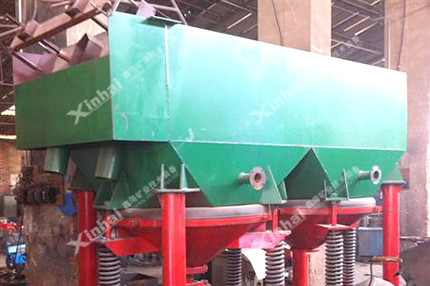 Jig
【Product Introduction】:A gravity separation equipment that uses different sedimentation speeds of minerals in vertical alternating currents to realize the separation of light and heavy minerals.
【Applicable Materials】:The jig machine is a fixed sieve type, suitable for sorting metal ores, such as tungsten-containing, gold-bearing placer, fine tin ore, etc.
【Production Capacity】:1~25t/h
【Product Application】:Xinhai sawtooth wave jig machine adopts conical slide valve, the failure rate is reduced by 80%, the energy consumption is small, and the sorting needs of different materials can be realized, and the processing capacity can be increased by more than 35%.
WeChat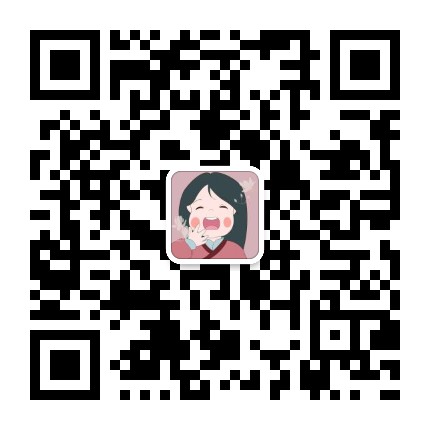 Jig machine
The advantages of Xinhai jig machine
The stroke and stroke rate of Xinhai jig machine are easy to adjust, and it adopts advanced frequency conversion speed regulation technology, which is easy to operate and manage;
It has the advantages of large processing capacity, sorting granularity, wide range, small footprint, and large processing capacity per unit area.
Working principle of jig machine equipment
The working principle of Xinhai beneficiation jigging machine is based on the theoretical layering law of the jig bed layer, and is an energy-saving gravity separation equipment developed and improved on the basis of the traditional jigging machine. The rising water flow is faster than the falling water flow; the rising time is short and the falling time is long, which overcomes the shortcomings of the sine wave pulsation curve jig that the rising and falling water flow and the action time are the same, enhancing the looseness of the bed and alleviating the suction effect. The heavy ore particles in the minerals are fully settled, and the enrichment ratio and recovery rate of the equipment are greatly improved.
Product Picture of Beneficiation Jig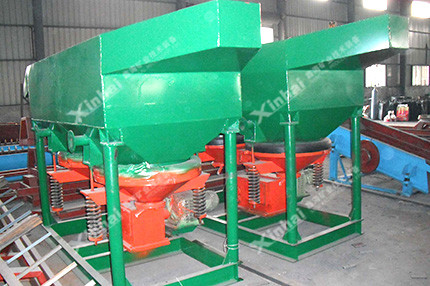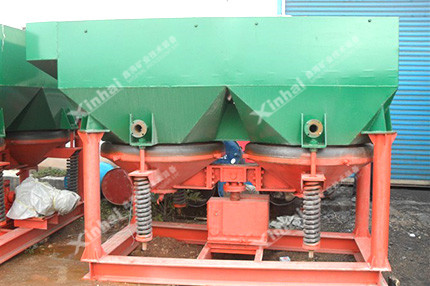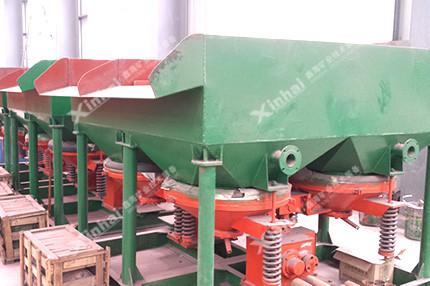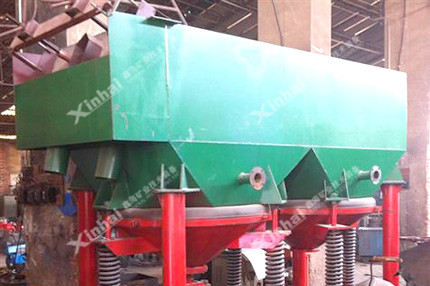 Xinhai jigging machine case
The Jiangxi Tungsten Mine Concentrator is located in a deep mountain, with a small plant area. The jigging machine requirements are strict during the re-election process. The Xinhai jig On the basis of research and improvement, the separation medium adopts an electronic digital control system and an electronic control air valve composed of a transmission mechanism, and successfully won the bid for the tungsten mine. During the use of Xinhai jigging machine, the yield rate of light products is as high as 60%, and the failure rate is almost zero.
Product Parameter
Parameters
Model
Jigging room
Diaphragm
Feeding size (mm)
Supply water under the sieve (m3/t)
Supply water
Pressure
(MPa)
Processing volume
(t/h)
Motor power (kW)
Dimensions (mm)
Weight
(kg)
shape
Area
(m2)
Stroke
(mm)
stroke times
(n/min)
JT-0.57
trapezoid
0.57
8.5~12
80~180
<6
1~2
> 0.05
1.5~3
1.5
1550X780X1530
610
JT1-1
trapezoid
1.04
10~17
<10
2~3
2.5~5
2.2
2270X1110X1890
900
JT2-2
Rectangle
2.28
12~21
<10
2~4
5~10
3
3225X1550X2050
1640
JT3-1
trapezoid
3
12~30
50~125
<10
3~6
> 0.05
7.5~15
5.5
2745X2000X3030
3085
JT4-2(1)
Rectangle
4
25~57
<25
4~8
8~20
7.5
4240X1990X2750
3098
JT4-2A⑵
Rectangle
4
25~57
<25
4~8
8~20
4X2
4240X1990X2750
3500
JT5-2
trapezoid
4.86
12~30
<10
3~6
12~25
7.5
3600X2000X2600
4500
Related Products
Online message
You can fill in your demand information in the form below, and our technical and sales staff will get in touch with you as soon as possible. In order to ensure that your information can be processed in a timely manner, please be sure to fill in your contact number accurately!