Leaching Agitation Tank
The advantages of Xinhai Leaching Agitation Tank
The ore flow moves smoothly, the ore slurry is evenly mixed, and the power consumption is low;
The air enters the groove through the hollow shaft of the transmission, and is agitated by the blades, and the air is evenly dispersed;
Compact structure and convenient maintenance;
The hollow shaft is ventilated to the bottom, and the air enters the groove through it, which is evenly dispersed and small bubbles;
Using two new impellers, the impeller of the stirring tank is large in diameter, low in speed, and low in stirring power consumption, which can reduce the wear of carbon;
The stirring intensity is moderate, and the slurry concentration and fineness distribution in the tank are consistent, which can improve the leaching rate of cyanidation and the adsorption rate of carbon;
The impeller of the leaching mixing tank is lined with wear-resistant rubber, which has a low speed and a long service life.
The working principle of the leaching mixing tank
Xinhai double-impeller leaching agitation tank slurry flows from top to bottom in the center under the drag and stirring action of the double-impeller, diffuses through the surrounding damping plate, and feeds air at the lower end of the shaft to mix with the slurry And circulate upwards to form a uniform suspension mixture.
Product picture of double impeller leaching mixing tank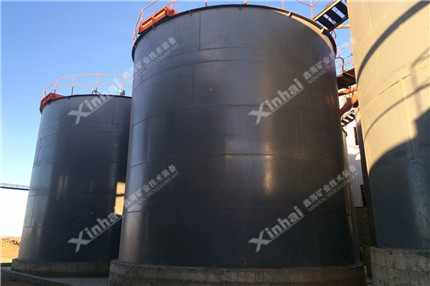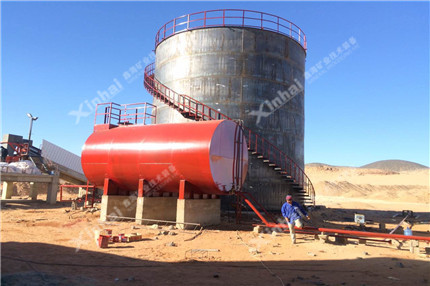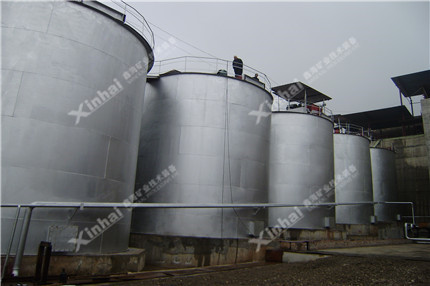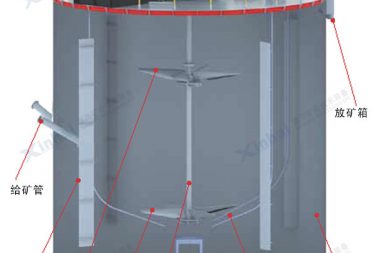 FAQ on leaching mixing tank
The leaching stirring tank has achieved a major breakthrough in the gold leaching rate of 97.14%.
A gold mine in Shaanxi established a beneficiation plant with a daily processing capacity of 200t/d in 2010, using a direct cyanide-zinc powder replacement process. Because the previously installed double-impeller stirring tank stirring blades are slightly smaller, the speed is low, and the slurry is stirred unevenly, which is not conducive to the leaching of gold. Later, Xinhai Mining Equipment Co., Ltd. was contacted to contract the cyanidation process. The Xinhai retrofit equipment uses a slightly larger stirring blade, and is equipped with an anti-back-suction device at the bottom of the hollow shaft. Due to the good ventilation in the center and the uniform stirring of sodium cyanide, a major breakthrough in increasing the leaching rate of gold from 94.28% to 97.14% was achieved
Product Parameter
Model
Trough specification (diameter X height) (mm)
effective volume (m3)
Impeller speed (r/min)
Impeller diameter (mm)
Motor
Model
Motor power (kW)
Model of reducer
Tank weight (kg)
Total weight
(kg)
SJ2.0X2.5
2000X2500
7.07
52
909
Y100L1-4
2.2
XLD2.2-4-29
1609
2144
SJ2.5X2.5
2500X2500
10.8
43
935
Y112M-4
4
XLD4-5-35
2159
2729
SJ2.5X3.15
2500X3150
13.92
52
935
Y100L1-4
2.2
XLD2.2-4-29
2398
3095
SJ3.0X3.0
3000 X3000
19
43
1130
Y112M-4
4
XLD4-5-35
3480
4583
SJ3X3.15
3000X3150
20
3480
4160.6
SJ3X3.5
3000X3500
22.97
3211
4334.6
SJ3.15X3.55
3150X3550
25.73
1260
3433.5
4322.8
SJ3.5X3.5
3500X3500
31.3
52
1310
Y132S-4
5.5
XLD5.5-5-29
3480
5025
SJ3.5X4
3500X4000
35.6
4230
5429
SJ3.55X4.0
3550X4000
36.8
43
Y112M-4
4
XLD4-5-35
4260
5025
SJ3.7X4.2
3700X4200
42
42
XLD4-5-43
5266
6153
SJ4.0X4.5
4000 X4500
52.78
35
1750
Y132M-4
7.5
XLD7.5-7-43
6397
7569
SJ4.0X6
4000 X6000
71
33
1750
Y160M-4
11
GRF137-Y11- 
4P-44.65-M4
7681
9200
SJ4.5X5.0
4500 X5000
74.75
35
1750
Y132M-4
7.5
XLD7.5-7-43
8614
10864
SJ5.0X5.6
5000X5600
104.5
31
2046
Y160M-4
11
XLD11-8-47
8740
14291
SJ5.5X6.0
5500 X6000
135.42
2100
12467
18745
SJ6.5X7.0
6500 X7000
215
21
2400
Y180L-4
22
GRF147-Y22- 
4P-70.87
17890
25978
SJ7.0X7.5
7000 X7500
269
2400
Y200L2-6
22
XLD22-10-47
20505
29030
SJ7.5X8.0
7500 X8000
331
23
2900
Y200L2-6
22
BLD7-43-22L
22552
32796
SJ8.0X8.5
8000X8500
402
18.5
3200
Y250M-8
30
TPS315-3F
30559.5
42467.3
SJ8.5X9.0
8500X9000
480
18.5
3300
Y250M-8
30
TPS315-3F
34130
46623
Related Products