High frequency dewatering screen
The advantages of high frequency dewatering screen
Xinhai mine dewatering screen is integrally riveted to the screen box, with high strength, good rigidity, no thermal stress, modular screen plate and sealing strip installation form, and good sealing effect;
The side guards of the Xinhai tailings dewatering screen are glued with wear-resistant rubber to ensure that the dewatering screen is not deformed and cracked due to abrasion, and reduces the pollution of iron to the material;
The contact material position is covered with wear-resistant natural rubber, which is anti-corrosive and wear-resistant;
The low-concentration slurry overflow pipe is installed at the rear to speed up the dehydration speed;
The screen surface with a -5°inclination angle makes the water content on the screen lower;
The wear-resistant rubber damping device makes the screen run more smoothly and lasting;
The high-efficiency dewatering screen has complete models and high dewatering efficiency.
The working principle of high frequency dewatering screen
Xinhai high-efficiency dewatering screen adopts dual-motor self-synchronization technology, universal eccentric block and adjustable amplitude vibrator. The screen is mainly composed of a screen box, a vibration exciter, a support system and a motor. The two unconnected vibrators operate synchronously and reversely. The centrifugal force generated by the two sets of eccentric masses is superimposed along the vibration direction, and the reverse centrifugal offset is offset, thus forming a single exciting vibration along the vibration direction, making the screen box reciprocating. Straight line movement.
Product Picture of High Frequency Dewatering Screen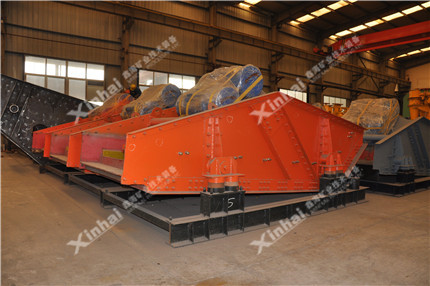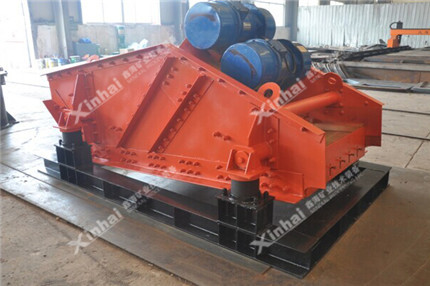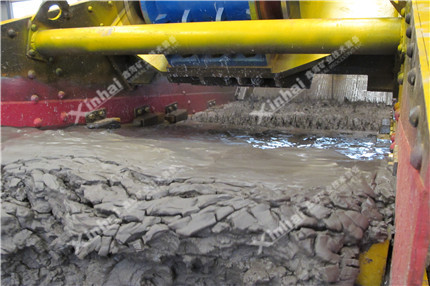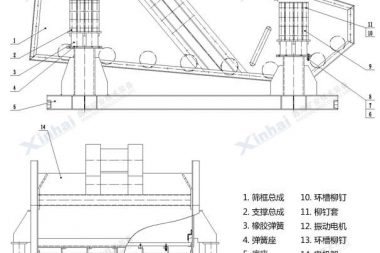 FAQ for tailings dewatering screen
What is a dry tailings dewatering screen
The working principle of the tailings dry dewatering screen produced by Xinhai is: the masses of the two eccentric weights are equal, and they rotate synchronously and reversely, so at any time, the centrifugal inertial force generated by the two eccentric weights is in the direction of vibration. The components of the above are always superimposed on each other, and the components of the centrifugal inertial force in the vertical and vibrating directions always cancel each other, thus forming a single-direction exciting force, driving the tailings dry dewatering screen to vibrate linearly. When the tailings slurry is fed to the screen surface, the moisture in the slurry passes through the screen holes and is discharged from the periphery of the screen box, while the solid particles remain on the screen and move forward with the vibration of the screen surface, and are continuously dehydrated. Drain to the dry tail discharge chute.
The dry tailings dewatering screen produced by Xinhai has the characteristics of large excitation force, large amplitude, large production capacity, high dehydration efficiency, and wear resistance. It is suitable for the dewatering of fine-grained tailings and coarse-grained tailings. The dewatering effect of the ore is better, and it is an efficient dry tailings discharge equipment. In addition, this type of dry tailings dewatering screen can also be used for concentrate dewatering, carbon slurry separation, chip removal and other operations, and it has a wide range of applications.
Product Parameter
Specifications
Model
Minimum 30°% solid volume feed concentration
Single motor power (kW)×number (unit)
Fine coal theoretically -0.5+0.1(mm) specific gravity 1.5
Coarse sand is about -5(mm) 100%, -0.6(mm)50%, specific gravity 2.7
Fine sand 90% -1(mm)
Proportion 2.7
980 (r/min)
1460 (r/min)
1460 (r/min)
980 (r/min)
1460 (r/min)
980 (r/min)
1460 (r/min)
980 (r/min)
VD6
6~8
10 ~13
14
28
10
21
2 ×2
VD9
9~12
15 ~20
21
42
16
32
3×2
VD12
15 ~19
24 ~30
33
67
25
50
2.6×2
4×2
VD15
30 ~35
50 ~60
63
125
47
94
2.4×4
2.25×4
VD18
35~45
60 ~80
77
153
57
115
3.7×4
VD21
—
85~100
—
225
—
164
15
—
VD24
95~110
250
190
Related Products