Knife gate valve
The advantages of knife gate valve
Xinhai knife gate valve has a long service life, and its lining adopts a wear-resistant rubber developed by unique nano-formulation technology. The wear resistance index is over 128%, which can extend the service life by 2-4 times compared with other rubbers;
Strong sealing performance, the elasticity of the wear-resistant rubber lining is higher than 80%, ensuring that the seal does not leak and is not easy to cause water hammer impact;
The flow port is not easy to be blocked. Due to the wear-resistant rubber valve lining, the surface is smooth and tidy, and the blockage is almost zero;
Simple structure, easy operation, easy maintenance;
The working principle of knife gate valve
Xinhai knife gate valve is mainly composed of valve seat, valve lining, gate, bracket and driving device. Under the action of assembly pre-tightening force, the valve linings of the two valve seats are closely matched to form a short butt pipe. The valve is closed and the gate is wedged between the cover of the two valve seats to cut off the fluid.
In addition, Xinhai knife gate valve is a manual knife gate valve, which can be made into electric knife gate valve and pneumatic knife gate valve according to user requirements. It can be operated on site or remotely controlled. Electric gapless gate valve and pneumatic gapless gate valve The structural length and flange size are generally manufactured according to national standards, and can also be manufactured according to user requirements.
Knife gate valve product image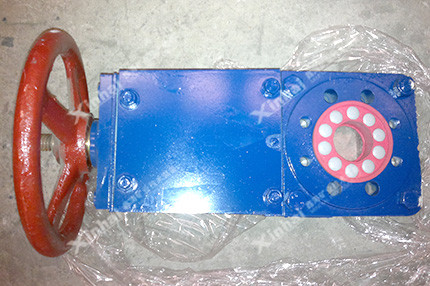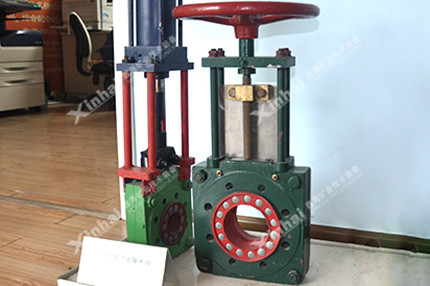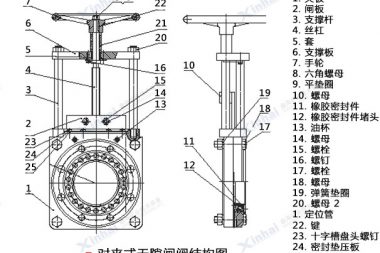 Knife gate valve FAQ
The application of Xinhai knife gate valve in practice
Yunnan, Guangxi and many other concentrators have chosen Xinhai among the knife gate valve manufacturers. It is lined with wear-resistant rubber developed by unique nano-formulation technology, which is also known as ultra-thin knife gate valve. The equipment produced by Xinhai knife gate valve manufacturer, the test results show that the valve lining wear index is more than 128%, the wear resistance is more than 80%, the gate valve and the gate are tightly integrated, there is no leakage, and the service life is longer than other knife gate valves by 2-4 Times, the clogging rate of the orifice is almost zero, and there is no pressure loss, which is very popular among customers.
Product Parameter
| DN | The pressure (Mpa) endured | Model of electric device | Maximum torque (Newton.m) | Motor power (KW) |
| --- | --- | --- | --- | --- |
| 50 | 1.6 | DZ10 | 100 | 0.25 |
| 65 | 1.6 | DZ10 | 100 | 0.25 |
| 80 | 1.6 | DZ10 | 100 | 0.25 |
| 100 | 1.6 | DZ10 | 200 | 0.37 |
| 125 | 1.6 | DZ10 | 200 | 0.37 |
XWXZF/D-1.6 Xinhai wear-resistant electric gapless gate valve structure size table
| DN | A | D | D1 | D2 | n-Φd | B | H | H1 |
| --- | --- | --- | --- | --- | --- | --- | --- | --- |
| 50 | 60 | 165 | 125 | 94 | 4-Φ18 | 180 | 546 | 90 |
| 65 | 60 | 185 | 145 | 112 | 4-Φ18 | 200 | 565 | 100 |
| 80 | 64 | 200 | 160 | 126 | 8-Φ18 | 220 | 580 | 110 |
| 100 | 64 | 220 | 180 | 150 | 8-Φ18 | 240 | 610 | 120 |
| 125 | 70 | 250 | 210 | 178 | 8-Φ18 | 270 | 640 | 135 |
Related Products